The New World
From RO Future Wiki
Overview
The new world is a mysterious region discovered after the Satan Morroc disaster. In the wake of Morrocs revival, a strange dimensional rift appeared in the desert. The great sages of Juno came to Morroc to study the phenomenon, and have managed to create a gateway that allows users to travel to the other side.
Today an expeditionary camp has been set up by Midgart Kingdom on the other side of the gate. Exactly where the lands beyond the gateway lay are unknown, but the world is filled with creatures more dangerous than those of Midgart have previously known.
New World
The following is the current known regions of the new world. At the center is the Midgarts camp, with the Splendide fields to the left and the Manuk mountains to the right.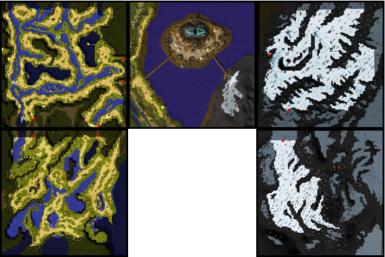 New Monsters
Name
Nepenthes
Race
Plant
Lv
75
ATK
415 ~ 565
Image
Element
Poison 2
HP
10,350
Def
25+30
Size
Medium
Exp
4,140 / 2,587
MDef
10+20
Special
Immobile, Ranged
Skills
Earth Element Attack, Energy Drain, Stun Attack, Poison Element Attack
Drops
Stem 90%, Strong Vine 30%, Green Live 0.50%, Mandragora Cap [1] 0.01%, Stem of Nepenthes [2] 0.01%, Harp of Nepenthes [2] 0.01%, Nepenthes Bow [2] 0.01%
Stats
STR 75, AGI 20, VIT 30, INT 5, DEX 65, LUK 5

100%HIT 115, 95%FLEE 215

Name
Centipede Larva
Race
Insect
Lv
80
ATK
948 ~ 1,145
Image
Element
Poison 2
HP
12,000
Def
20+15
Size
Small
Exp
3,600 / 4,800
MDef
20+10
Special
Agressive
Skills
Venom Dust, Poison Attack, Poison Element Attack, Combo Attack
Drops
Worm Peeling 90%, Bug Leg 53.35%, Zargon 50%, Solid Shell 25%, 3Carat Diamond 0.50%, Boots [1] 0.09%, Centipede Larva Card 0.01%
Stats
STR 80, AGI 33, VIT 15, INT 3, DEX 75, LUK 10

100%HIT 128, 95%FLEE 225

Name
Pinguicula
Race
Plant
Lv
80
ATK
600 ~ 720
Image
Element
Earth 3
HP
13,680
Def
25+30
Size
Small
Exp
5,472 / 3,420
MDef
5+10
Special
Agressive
Skills
Heal, Splash Attack, Earth Element Attack, Stun Attack, Sleep Attack
Drops
Sharp Leaf 50%, Brown Root 30%, Huge Leaf 20%, Flower 10%, Romantic Leaf 0.10%, Whip of Balance [3] 0.10%, Pinguicula's Corsage [1] 0.01%
Stats
STR 102, AGI 23, VIT 30, INT 10, DEX 86, LUK 2

100%HIT 123, 95%FLEE 241

Name
Luciola Vespa / Luiciola Vespa
Race
Insect
Lv
104
ATK
9,000 ~ 9,900
Image
Element
Wind 1
HP
25,103
Def
29+30
Size
Medium
Exp
13,040 / 11,410
MDef
5+35
Special
Aggressive
Skills
Teleport, Piercing Attack, Poison Element Attack, Pulse Strike, Combo Attack
Drops
Bee Sting 90%, Worm Peeling 90%, Solid Shell 30%, Honey 3%, Royal Jelly 2%, Wind of Verdure 1.60%, Sprint Ring 0.02%, Luciola Vespa Card 0.01%
Stats
STR104, AGI 56, VIT 30, INT 20, DEX 116, LUK 4

100%HIT 180, 95%FLEE 295

Name
Hillslion / Hillsrion
Race
Brute
Lv
105
ATK
5,000 ~ 5,500
Image
Element
Earth 1
HP
34,600
Def
28+30
Size
Small
Exp
20,760/12,110
MDef
15+30
Special
Boss, Aggressive
Skills
Teleport, Provoke, Critical Wounds, Critical Slash, Combo Attack
Drops
Brigan 48.50%, Horn of Hillsrion 30%, Fur 20%, Soft Feather 1.20%, Horn of Hilthrion [3] 0.20%, Wild Beast Claw [1] 0.10%, Sprint Shoes [1] 0.10%, Hillsrion Card 0.01%
Stats
STR 105, AGI 60, VIT 30, INT 15, DEX 115, LUK 5

100%HIT 185, 95%FLEE 295

Name
Tatacho
Race
Brute
Lv
106
ATK
10,000 ~ 11,000
Image
Element
Earth 1
HP
39,311
Def
20+30
Size
Medium
Exp
23,700/13,825
MDef
17+40
Special
Passive
Skills
Teleport, Hammer Fall, Stun Attack, Ganbantein
Drops
Fur 40%, Delicious Fish 30%, Potato 30%, Peaked Hat 30%, Lunakaligo [3] 0.20%, Cello [3] 0.10%, Tatacho Card 0.01%
Stats
STR 106, AGI 40, VIT 30, INT 25, DEX 115, LUK 6

100%HIT 166, 95%FLEE 296

Name
Cornus
Race
Brute
Lv
108
ATK
12,000 ~ 13,000
Image
Element
Holy 2
HP
39,391
Def
35+80
Size
Medium
Exp
30,854 / 4,427
MDef
80+240
Special
Passive
Skills
Teleport, Reflect Shield, Provoke, Critical Wounds, Critical Slash, Combo Attack, Pulse Strike, Life Stream
Drops
Horseshoe 60%, Mystic Horn 40%, Soft Feather 30%, Unicorn Horn 0.02%, Sprint Mail [1] 0.10%, Long Horn [1] 0.01%, Angelic Ring 0.01%, Cornus Card 0.01%
Stats
STR 110, AGI 45, VIT 80, INT 200, DEX 105, LUK 10

100%HIT 173, 95%FLEE 288

Name
Centipede
Race
Insect
Lv
110
ATK
15,000 ~ 16,000
Image
Element
Poison 2
HP
45,662
Def
40+30
Size
Medium
Exp
27,397 / 15,982
MDef
25+20
Special
Agressive
Skills
Teleport, Venom Dust, Poison Attack, Poison Element Attack, Combo Attack, Quagmire, Ganbantein, Emotion
Drops
Worm Peeling 90%, Bug Leg 53.35%, Zargon 50%, Solid Shell 25%, Cursed Lyre [1] 0.10%, Cold Heart 0.02%, Black Cat 0.02%, Centipede Card 0.01%
Stats
STR 112, AGI 43, VIT 30, INT 5, DEX 131, LUK 12

100%HIT 173, 95%FLEE 316

Name
Naga
Race
Brute
Lv
111
ATK
8,000 ~ 8,800
Image
Element
Earth 2
HP
46,708
Def
38+30
Size
Medium
Exp
30,360 / 16,348
MDef
15+123
Special
Agressive
Skills
Teleport, Spear Boomerang, Pierce, Brandish Spear, Provoke, Waterball
Drops
Snake Scale 50%, Scale Shell 35%, Shining Scale 20%, Pike [4] 0.20%, Battle Fork [4] 0.10%, Shield of Naga [1] 0.10%, Armor of Naga [1] 0.10%
Stats
STR 113, AGI 42, VIT 30, INT 108, DEX 122, LUK 13

100%HIT 173, 95%FLEE 308

Name
Tendrillion / Tendrilrion
Race
Brute
Lv
113
ATK
20,000 ~ 24,000
Image
Element
Earth 2
HP
3,675,330
Def
33+1
Size
Large
Exp
734,166 / 365,733
MDef
30+45
Special
Boss, Agressive
Skills
Teleport, Provoke, Emotion, Critical Wounds, Snap, Area Sleep, Area Bleeding, Magnum Break, Earth Spike, Critical Slash, Combo Attack, Ganbantein, Sonic Blow, Dragon Fear, Earth Element Attack, Fiber Lock, Life Stream
Drops
Horn of Tendrilion 90%, Tough Vines 53.35%, Stiff Horn 48.50%, Fur 40%, Leather of Tendrilion [1] 5%, Death Guidance [2] 1%, Eraser 1%
Stats
STR 113, AGI 60, VIT 1, INT 45, DEX 147, LUK 13

100%HIT 193, 95%FLEE 335

Name
Hardrock Mammoth
Race
Brute
Lv
115
ATK
30,000 ~ 36,000
Image
Element
Earth 3
HP
4,137,000
Def
50+1
Size
Large
Exp
827,400 / 413,700
MDef
60+30
Special
Boss, Agressive
Skills
Teleport, Stone Skin, Summon Slaves (3x Tatacho), Call Slaves, Emotion, Water Ball, Clashing Spiral, Two Hand Quicken, Area Stun, Provoke, Critical Wounds, Earth Spike, Dragon Fear, Earthquake, Ganbantein, Life Stream
Drops
Elunium 90%, Hard Skin 90%, Ivory Lance [1] 5%, Ivory Knife [2] 4%, Tournament Shield [1] 2%, Bone Head [1] 1%, Unicorn Horn 0.20%
Stats
STR 115, AGI 35, VIT 1, INT 30, DEX 150, LUK 15

100%HIT 170, 95%FLEE 340
Region Maps
Midgarts Expedition Camp (mid_camp) - BGM No. 126 (New World Order)

Town Map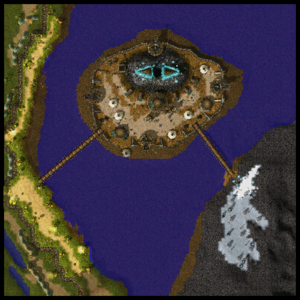 Manuk Field (man_fild01) - BGM No. 127 (Mystic Haze)

Nephenthes, Centipede Larva, Centipede, Hillslion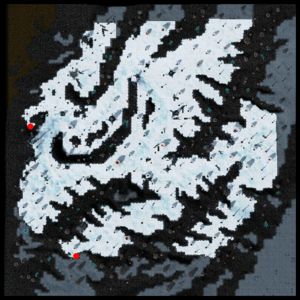 Manuk Field (man_fild03) - BGM No. 127 (Mystic Haze)

Hillslion, Centipede, Tatacho, Hardrock Mammoth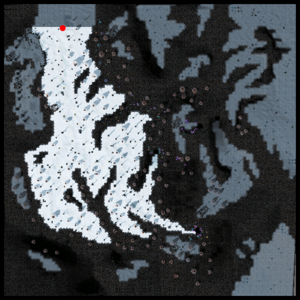 Splendide Field (spl_fild02) - BGM No. 128 (Splendid Dreams)

Pinguicula, Luciola Vespa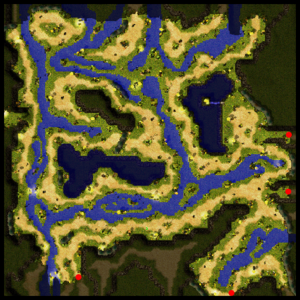 Splendide Field (spl_fild03) - BGM No. 128 (Splendid Dreams)

Luciola Vespa, Naga, Cornus, Tendrillion