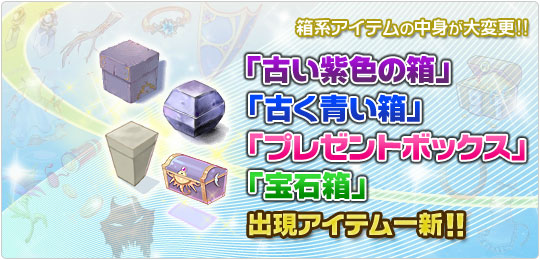 On maintenance of January 25th, item giving boxes are getting a full scale update. Â Items affected are the Old Purple Box, Old Blue Box, Present Box, and Treasure Box.
Old Blue Box & Old Purple Box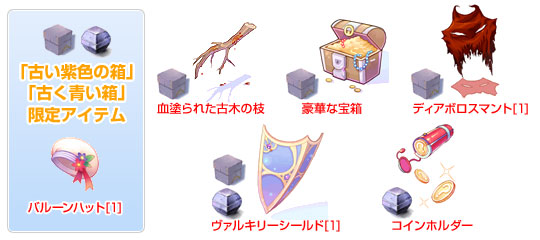 The old blue box and old purple box is updated with many of the new world and dimensional gorge items, including those dropped by the MVP monsters. Â Exclusively available in Old Blue Box (OBB) and Old Purple Boxes (OPB) is the Balloon Hat[1].
Illustration: Balloon Hat[1] (OPB & OBB), Bloody Branch (OPB), Treasure Box (OPB & OBB), Diabolus Maneaut[1] (OPB), Valkyrja's Shield[1] (OPB & OBB), Coin Holder (OBB).
Note: Balloon Hat on iRO is called the Tam[1]. Â On jRO, the headgear reduces aftercast delay by 1% per refine.
Present Box

Got a wedding coming up? Â Present box now contains items related to weddings. Â It also contains many new taming items, pet accessories, special items like Valhalla's Flower, and many types of special stones and ore.
Illustration: Wedding Dress[0]/Tuxedo, Fancy Apron, Valhalla's Flower
Jewelry Box

Jewelry Boxes are now updated with new kinds of accessories, including those from the new world and dimensional gorge.
Illustration: Ring of Resonance[0], Diabolus Ring[1], Bradium Earing[1]
Other
The website also is kind enough to provide example places and monsters to obtain these boxes. Â I won't be translating these, but its here just to show the information that is provided.
Source: http://www.ragnarokonline.jp/news/information/notice/itemboxchange2011.html